Mother of Pearl

Won 2nd place at the Sulky Challenge 2000 under professional Doll Artists!

Karen's Booth

Here Are a couple shots of dolls Karen had at the University Street Fair In Seattle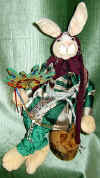 "Rabbit in Disguise" went to Japan "Impish" pattern by Gaye Coleman 8th International Quilt week

Web Changes
This is where we'll announce the most recent additions to our web site. If you've visited us before and want to know what's changed, take a look here first.